Green Mile Director Eyes Bradbury's 451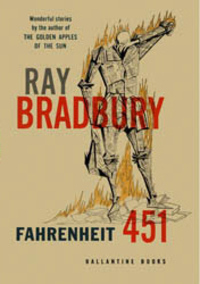 Frank Darabont — the Academy Award winning director of The Green Mile and The Shawshank Redemption — says it's about 90% sure that a remake of Ray Bradbury's Fahrenheit 451 is his next film. And for lovers of the book, that's not bad news.
Darabont's resume is pretty astonishing for its scope: in addition to writing and directing two Academy Award winning films (The Shawshank Redemption and The Green Mile), he's written a lot of genre fare, like Nightmare on Elm Street 3 (probably the best of the sequels) and The Blob remake (a guilty favorite). He also wrote an early draft of Indiana Jones and the Kingdom of the Crystal Skull and doctored the script to Minority Report.
Darabont is quick to make clear that he wants to direct Fahrenheit 451 because he has a respect for the source material. Also? Because the Truffaut version sucks.
"I remember seeing the [1966 François Truffaut film] version and thinking, 'Wow, that missed this book by several country miles.' So it's not something that I feel has ever been put on film well. If it were a terrific movie, believe me, I wouldn't be bothering."
I know it's a "classic," but he's right: although Bradbury inexplicably liked it, Truffaut's version sucks. Oskar Werner can barely speak English and the whole production feels cheap and shoddy. I'd really like someone to take a serious stab at sci-fi's most politically relevant novel. And I get a thrill thinking how they'd update the ending for modern times: I imagine an entire group of living books all named after "Harry Potter" novels.
Related Post: Exclusive Interview with Frank Darabont
Darabont Mulls 451 Remake [Sci Fi Wire]
Read More