Great Licenses, Bad Ideas: Jack Black's Green Lantern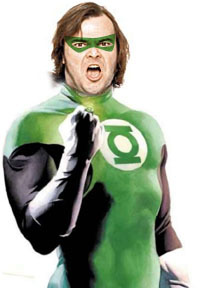 I don't know many people who don't like Jack Black. I also don't know many people who want to see his flab grotesquely squeezed into a pair of superhero spandex tights. That such perverts exist, I don't doubt: Nacho Libre's box office numbers insist that a respectable number of such deviants walk among us.
Comic fans will have to subdue a shudder, then, when they consider the prospect of a Green Lantern movie starring Jack Black… a film that almost got made. It's perhaps testament to the divine love of Yahweh in heaven that it was not.
The film — based on DC Comic's famous comic featuring a legion of super heroes who police outer space, armed with magic rings powered by their will alone — was pitched as a "wacky" superhero vehicle for Black, a la Jim Carrey's The Mask.
According to a recent interview Black gave to MTV:
"I was going to be making all kinds of stuff," Black said of the ring, which gives its possessor the power to create anything that can be imagined, and in the comic books usually manifests itself as green cages, weapons, walls, boxing gloves, etc.
"I was going to be capturing bad guys with green, giant prophylactics," Black remembered of one scene in the script. "Some funny stuff."
Yeah. Hilarious, Jack. 2 hours of watching a fat guy given the ultimate power in the universe trying to figure out how to make his schlong bigger.
Jack Black Green With Envy Over New Lantern [MTV Movies Blog]
Read More