Great Horror Gifts: Nightmare U.S.A.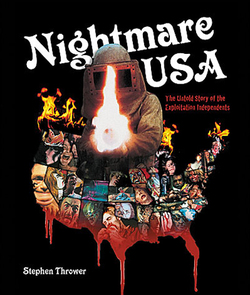 OK, the holidays are upon us and you're looking for something cool to buy the horror fan on your list. They already have all the horror DVDs they want, so what else is there? How about one of the year's most acclaimed horror movie books: Nightmare U.S.A. from Britain's great FAB Press?
Subtitled The Untold Story of Exploitation Independents, Nightmare U.S.A. was written by Stephen Thrower, who also wrote FAB's indispensable Beyond Terror: The Films of Lucio Fulci — and that should be enough for you right there. Nightmare U.S.A. delves into the independent regional filmmakers behind such 70s and 80s grindhouse hits as Axe, Messiah of Evil, The Deadly Spawn, films that are all true exploitation films in the best sense of the term. Through exclusive interviews with the filmmakers (many of whom have never discussed their films in print before), Thrower gets the stories behind these films and the struggles to make them. There are also reviews for every film mentioned and the book is loaded with exclusive stills and poster art for each title.
The word exhaustive doesn't begin to describe this book; there isn't a factoid or film mentioned that Thrower doesn't examine thoroughly. But Thrower isn't a stuffy reviewer trying to prove he "gets" exploitation films, nor is he a raving fanboy simply listing his favorite movies. Thrower knows and respects the horror genre, and when it's all over, you want to watch every film in the book, no matter how lousy some of them might be. That, my friends, is good writing.
But please keep in mind that Nightmare U.S.A. is a big, bulky hardcover book, so it's pricey at $80 a pop, although you can find discounts online. But it's an absolute must for obsessive horror fans everywhere.
Read More