"Ghostbusters" Video Game Footage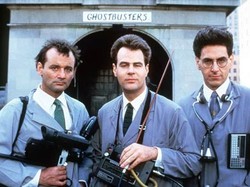 Last week, we brought you word that Ghostbusters was getting a sequel in video game form. We also posted a link to old footage of what was to be a Ghostbusters video game that never came to pass. Well, for all you wanna-be paranormal investigators and eliminators, it turns out the game is further along than we think. G4 has posted official footage from the game — and it looks even more awesome than the previous demo.
The only concern is that the Harold Ramis- and Dan Aykroyd-penned script takes place in the early 1990s, after the events of Ghostbusters 2, but the video game footage is obviously based of the first two films. Is this a graphics engine test? Play mechanics alpha? Either way, catching ghosts looks like fun. Even more interesting is the short clip of a ghostbuster using a PKE meter to collect ghost data. Catching ghosts might be cool, but having the developer use the Ghostbuster universe and actually have gamers become paranormal investigators is even better.
The game is in development for Xbox 360, Playstation 3 and PC. Different Nintendo Wii, DS and Playstation 2 versions are also being developed. All will feature the voices of Aykroyd, Ramis, Bill Murray, Ernie Hudson and Annie Potts.
Read More