Ghostbusters III: The Video Game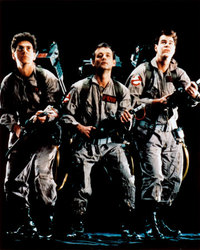 Some dreams never die. For Dan Ackroyd, time not spent sucking up mayonnaise margaritas have been spent endlessly shopping the script to Ghostbusters in Hell around Hollywood. Bill Murray has long been the hold out on that project, and you can understand why: he's gone from Saturday Night Live funny man to respected thespian, where as Ackroyd and Harold Ramis have spent the last decade doing almost nothing at all.
For those of us who grew up chanting "I Ain't Afraid Of No Ghost," the prospect of Ghostbusters III still makes us tingle. We know it'll be terrible: no one really wants to see a bunch of flabby geriatrics squeeze themselves back into their ectoplasm-slathered coveralls for one last wheezing gasp. But there's still an irrational desire to finally see the sequel all of us wanted to see over 15 years ago.
Ghostbusters in Hell isn't popping up any time soon, but it looks like Ackroyd has finally convinced Murray to give it one last go, in the form of a video game.
To be released by Vivendi Universal in late 2008, the game will reunite all four members of the Ghostbusters — Ackroyd, Ernie Hudson, Bill Murray and Harold Ramis — in a sequel taking place right after the events of Ghostbusters II.
Games licensed from movie franchises don't tend to turn out very well, but the inner child in me is sliming my pants anyway.
Ghostbusters Game Develops [Sci Fi Wire]
Read More