"Ghostbusters" Aint Afraid of No Video Game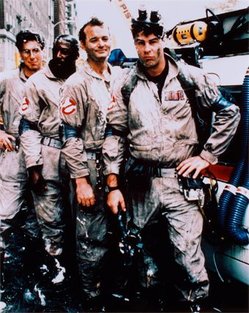 When I was a kid, parts of Ghostbusters really freaked me out — the ghost librarian screaming at the beginning and the Zuul dogs, most notably. But I loved every minute of it, almost as much as my brother, who would run around the neighborhood busting ghosts. So when footage of a Ghostbusters video game leaked onto YouTube earlier this year. I was hooked, especially since it looked awesome. Unfortunately, that game fell through the cracks, as the publisher couldn't secure the rights and the game was never made beyond the prototype footage.
Now, Vivendi Games has announced a new Ghostbusters video game is in development and stars Bill Murray, Dan Aykroyd, Harold Ramis and Ernie Hudson signed onto provide their voice and likeness and Ramis and Aykroyd will actually write the story. Even Annie Potts, who played Janine signed on.
"We noticed we did well on Scarface and were alert for new opportunities to turn iconic film products into games in a way that is a new manifestation of the franchise," said Bruce Hack, Vivendi Games chief executive. "Ghostbusters is unquestionably among the small number of movies in that class."
The new game will be set in the early '90s after the events of Ghostbusters II. Although we don't have any footage of the game yet, just the possibility of running around as a ghostbuster with characters that are voiced by the original clan is enough to get excited about.
Read More