"Freddy Vs. Jason Vs. Ash" Duke it Out in Comics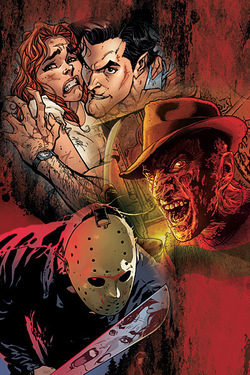 Freddy Vs. Jason was a fun extension of two franchises that long succumbed to their own absurdity. While that horror team up made sense, word of a sequel pitting Ash from the Evil Dead series against the two horror giants seemed a bit off. Sure, Evil Dead 2 and Army of Darkness were over the top, but it's hardly an established series outside of the horror community. Ultimately, that project never grew legs, but now it looks like the triple-threat will actually happen, just not on the silver screen.
Freddy Vs. Jason Vs. Ash will come to life on the comic book pages of a six-part miniseries published by DC Comics' Windstorm imprint, Fangoria reports. The story centers around the Necronomicon that haunts the Evil Dead series and makes an appearance in Jason Goes to Hell. Freddy wants to use the demonic book to free himself from Jason's subconscious and uses the hulking killer to get it for him. Ash, on the other hand, moves into town to head up the local S Mart. He learns of the book's existence and is determined to destroy it.
The first issue hit the stands last week. The six-part series will continue into the new year.
"The [script] outline was very specific in providing the details of how the story progresses," scripter James Kuhoric explains. "But it also left room for the addition of some really bloody fun. For example, at one point it said, 'Jason kills Will in a brutally vicious scene.' Our script fills in a few blanks and is more like, 'Jason kills Will by punching through his chest, ripping out his intestines and leaving him hanging by his entrails in the rafters.'"
Read More