"Four Years" Is Much Too Short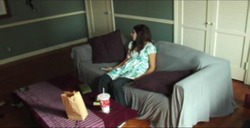 The zombie sub-genre is already stuffed with lifeless, brain dead ideas. That's why it's such a treat to catch up-and-coming director Travis Betz's short film, Four Years. The seven-minute short popped up on Bloody-Disgusting. The film was actually shot for a Halloween party that Betz was having, but he was happy to share with horror hounds.
Betz previous work consists of Joshua — a low budget horror flick about a man who returns home for his father's funeral and is once again haunted by his past. Four Years, however, is a quick farce on becoming a zombie. It does, however, bring up the interesting idea of the experience of a zombie, as alive Stacy tries to prep zombie Stacy for her date. If zombie Stacy scores with Brad, does that experience benefit normal Stacy? Either way, four years is much too long.
Read More