First Look At Quinto's Young Spock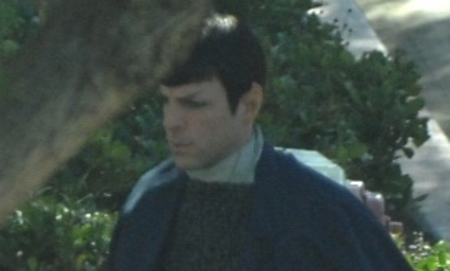 Of all the actors cast in J.J. Abrams' Star Trek XI, it is probably Heroes alum Zachary Quinto who resembles most closely his predecessor. That, in and of itself, is remarkable: Leonard Nimoy's stern, saturnine features — somehow both sexless and sensual — are not in common distribution… and that's not even to mention the famous Vulcan's eyebrows.
The first pictures of Quinto as Spock have now leaked off the Trek XI set, and no surprise, in his Beatles bowl hair cut and fake latex ears, Quinto looks fab.
There is a bit of a difference in look between a young Nimoy and Quinto, but it's actually just a bit of jowl to the face, easily chalked up to baby fat.
The scene being filmed is apparently at a Vulcan High Council, where Spock's on trial for something… if rumors are to believe, probably for screwing with the timeline. Either way, let's hope the other actors look as good as Quinto in their roles… although I don't think there's much for Simon Pegg's Scotty.
Quinto As Young Spock! [JFX Online]
Read More