"Final Destination 4" in 3-D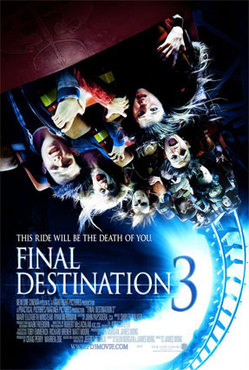 You can thank (or blame) many of the 3D, 1950s horror movies, like It Came From Outer Space and House of Wax , for introducing the 3D effect to the masses. Now, 3D is having a renaissance with The Nightmare Before Christmas and, most recently, Beowulf. It looks like that theater technology is ready to spill into the truly mediocre — Final Destination 4 will be shot in 3D — according to The Hollywood Reporter.
Although Beowulf had its moments, it was still a poorly-executed story that had dazzling visuals, which only kept my attention for about a half an hour. So far, 3D is the indulgence of spectacle and hasn't really added any content to films. It's doubtful that Final Destination 4 will herald the coming of substantive 3D filmmaking, but there might be a lot of blood and guts flying in your face, so we're on board. Plot details are limited, but it's said that this will be a stand-alone feature — offering Death a new batch of teen victims.
Read More