Feeling Javier Diment's "Sense of Fear"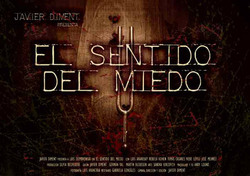 Fear needs no translation, so there's hardly anything foreign about our beloved genre. One of the more interesting projects to come around is the Argentinean shocker The Sense of Fear, from television filmmaker Javier Diment. Fango got the scoop on the new movie that follows a man who believes he's from another dimension and "can feel other people's senses."
"Somehow, he knows that if he finds them all [five people, each equaling one particular sense: smell, touch, hearing, etc.], he'll be able to open a doorway to a new dimension," Diment explains. "Along the way, he falls into a downward spiral of obsession, religious fanaticism, sex, abduction and murder. His path to redemption could easily lead straight to hell."
Any horror film that delves into our own metaphysical fears has the potential to be more terrifying than any slasher or gore-fest. The most interesting aspect of the Fangoria write up was the comparison to Takashi Miike — a Japanese director who has created some of the most horrific cinematic works. Audition is one of the most pensive and affecting horror efforts of our time. If Diment is as smart a director as Miike, then The Sense of Fear expectations just skyrocketed. From the looks of the trailer (it's not for the faint of heart), the film definitely has that off-putting indie feel of some of Miike's efforts like Visitor Q. Just remember, when you go looking for obscure horror, you take the chance of running into movies you aren't and never will be ready for…
"Our idea was to show a reflection of abuse and the fear it creates as a form of domination of the masses," Diment explains. "Throughout the story, the audience will follow a series of strange and dark characters whose motivations are not understandable at first, but through the rhythm and intensity of the situations presented in the film, their attention should be held. The atrocities and genre elements tie directly into this. They follow the main character's trip. The audience should definitely feel that they are about to see something that they shouldn't see."
And then on the other hand, Diment brings the pain in a big way. "We've got stuff for all tastes: a girl cuts her own nipple off with a pair of scissors, tongues are ripped out, there are gunshots galore, stabbings, faces hit until they are just flesh and blood," he says. "We were lucky to have talented local artist Andy Lound do all the makeup effects, and she was just wonderful!"
Read More