Dustin Hoffman Recalls His Greatest Influences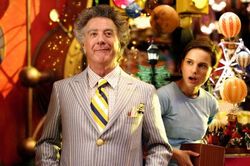 There aren't many actors who became stars in the 1960s and are still working at the top of their game, but Dustin Hoffman is one of them. Still boyish at the age of 70, Hoffman is ideally cast in his new film, the delightful fantasy Mr. Magorium's Magic Emporium, as a 235-year-old "toy impresario, wonder aficionado and avid shoe-wearer." Like Willie Wonka without the mean edge, the impish Magorium runs his magical toy store with blithe indifference to the demands of economics.
Hoffman flew in from the London set of his new film Last Chance Harvey to give a press conference in Manhattan on Monday. Despite an obvious case of jet lag (or maybe he was just tired from lugging around a copy of the new translation of War and Peace—must be quite a long plane trip!) the always affable star chatted at length about work new and old, including some of the people who have been the biggest influences on his career. You can read some of his remarks after the jump.
As a young man, Hoffman "I wanted to be a jazz pianist. And I wasn't good enough. I got into city college because I didn't have the grades to get into university, and I took acting because I needed three credits to not flunk out, and a friend told me to take acting because no one fails it, it's like gym. And that's literally how I got involved.
"In those days the mentor, the hero was indisputably Brando, flat out. There's no actor that tilted the axis of that art form the way he did. Gene Hackman, Robert Duvall, a whole generation idolized him. There was something he did that we had never seen before. A lot of people had been natural in their acting, a lot of actors were gifted, but he did a couple of things that were quite new. He hit a private spot that was almost unbearable to watch. And there was a femininity in his masculinity that I don't think anyone had seen before. There was almost an androgynous sense in his acting that made him even more masculine."
After he started getting work in movies, the next influences on Hoffman were his directors on The Graduate and Midnight Cowboy. "Mike Nichols and John Schlesinger followed, and I was doubly spoiled because they brought theater rehearsal into the film. The studios don't like rehearsal, because if the cinematographer is hired, the principal crew is hired, they want you shooting. But these directors somehow got three, four weeks of rehearsal. And we were able to build those movies like you build a play. It's frustrating because sometimes you find this character you're trying to do in the third or fourth week and you go to the director and say 'I found him,' and he says it's too late because it's not gonna match what you did the first three weeks.
"Now I'm at the age where the mentor for me is the artist that survives. When I hear about a director like Sidney Lumet at the age of 83 made a film that's supposed to be remarkable (Before the Devil Knows You're Dead), that's all you ask for. [Portugeuse director] Manoel de Olivera came out with his new film, he's 97 years old. So those guys are automatic mentors!"
Read More