Death… The Final Frontier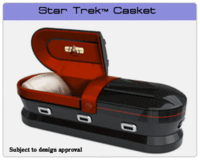 Death has always been a matter of form, rather than a strict obligation, in the Star Trek universe. As an episode of Star Trek: The Next Generation makes clear, any crew man who dies can simply be Xeroxed from their last teleporter patter. Aging can be handled the same way, for that matter, smoothing away the withered octogenarian flaps of for the supple flesh of a nubile Starfleet cadet.
So there's no reason to die, or have funerals in Gene Roddenberry's future: the only reason anyone does so is so they can be loaded into one of those ebony coffins from the end of Wrath of Khan and be blasted at a thousand miles an hour out of the photon torpedo tubes.
Now, thanks to afterlife geek coffin makers Eternal Image, you too can have a Star Trek funeral. The casket is a precise recreation of Spock's from Wrath of Khan. Unfortunately, technology hasn't quite caught up with photon torpedoes yet, so we at SciFi Scanner suggest this alternative: load the coffin into a water slide and loop-de-luge it down into the grave waiting below.
Star Trek Casket [Eternal Image]
Read More