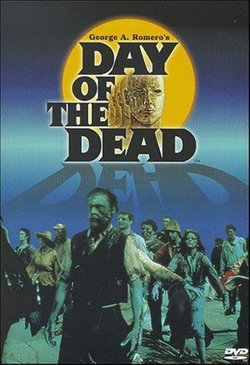 Much like a horde of zombies, remakes just won't stay dead. After spitting out a new Dawn of the Dead, the Day of the Dead remake is just on the horizon, reports Fangoria. The remake of the over-looked classic stars Ving Rhames, Mena Suvari, Nick Cannon and Christa Campbell, and it was directed by Steven Miner (Halloween: H20) — So far, no good. Call me a purist, but I prefer my zombies slow and dumb. If the Day remake follows the Dawn remake blueprint, it looks like we'll see some more hyper-active zombies.
"The remake takes place in 24 hours…a literal day of the dead. The story follows a small band of civilians, scientists and military personal as they struggle to work together and survive a zombie outbreak," says Jeffrey Reddick in his Day of the Dead production diary. "Given the current world climate, we thought it would be more interesting to see how a group of unseasoned military personnel would react when they're forced to deal with something unthinkable."
Despite Romero's financial troubles when making Day of the Dead, I'm tempted to say that it is my favorite of the original Dead trilogy. The zombie gore and action is top notch and Bub, while a bit contrived, pushed the zombie theory forward into experimental territory. Hopefully Miner's remake won't tarnish the film's already smudged name.
Read More