David Twohy Maniacally Threatens New "Riddick" Sequel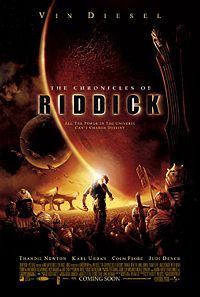 For those of us endured 2004's execrable Chronicles of Riddick, the effect of hearing director David Twohy threaten a sequel is something like the horror of being a sexual assault victim who keeps on getting cheery post cards from their incarcerated rapist, each one ending with the line "See you soon."
But that's just what Twohy is doing. Over on his official website, Twohy is now claiming that a Riddick sequel is a distinct possibility.
I'm really surprised anyone's still hankering for this. Pitch Black was an interesting little sci-fi film, far better and smarter than it perhaps had any right to be, but it's also burdened with cheap special effects and some phoned in performances. Vin Diesel's Riddick character is a great idea, for one film, but Twohy seems intent on creating a mythology around him: a futuristic, amoral Conan with cyberpunk eyes.
That wouldn't be so bad, but Chronicles of Riddick was just utterly forgettable tripe. I guess some people must have liked it: Twohy claims that Riddick's DVD sales are really good, and that's what is driving interest in a possible sequel. But it's likely to be a very small film, financed independently.
But maybe that's what the franchise needs at this point: a return to the smaller, leaner and smarter sci-fi action of Pitch Black. If anything was made clear by Twohy's Chronicles of Riddick, it's that he's only got enough compelling ideas to fill a very small canvas.
Twohy Keen On "Riddick" Return [Dark Horizons]
Read More