Cloverfield Has A Monster Case Of Lice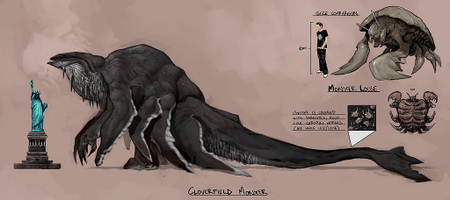 There's no real hard evidence that J.J. Abrams' upcoming giant monster flick, Cloverfield, is going to be a science-fiction movie. Granted, Abrams is well-known in the sci-fi genre for shows like Lost and projects like Star Trek XI. Granted, most giant monster movies come from the Godzilla model, and involve nuclear-mutated iguanas smashing their way through cardboard Tokyo as they fight extraterrestrial turtles. But none of that's conclusive: it could just be a horror movie.
Still, in wont of hard evidence to the contrary, SciFi Scanner is willing to embrace Cloverfield as a beast after its own heart. And so I thought I'd pass on this supposedly real production illustration of the Cloverfield monster.
I have no idea if it is legitimate or not, but it does back-up a couple of the things we absolutely do know about Cloverfield: there's going to be a giant monster, accompanied by a swarm of smaller "helper" monster. This image claims that those smaller monsters will actually be parasitic louses that feed on the detritus of Cloverfield's mutant, whale-like monster. And, when Master Cloverfield isn't around? Probably on humans.
I don't really know if this is mere fan speculation or an actual leaked production image, but I hope it's real: if so, Cloverfield could have the coolest giant monster concept this side of Cthulhu Vs. New York.
Read More