Christopher Smith is Lost in the "Triangle"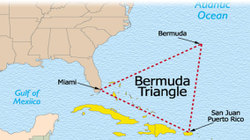 There are place on earth that seem to be shrouded in an air of foreboding mystery. Like Roswell, New Mexico, and Stonehenge, in the English country of Wiltshire, the Bermuda Triangle has that name recognition that sends a cold chill down your spine. From the infamous Flight 19 — a routine training flight of TBM Avenger bombers that went missing in 1945 — to the countless accounts of abandoned derelict vessels, there have been enough supernatural occurrences to grant a cult following that rivals government conspiracy freaks and Big Foot watchers. And now, it looks like that's the next subject of Severance director Christopher Smith's next film Triangle, reports Variety.
The Bermuda Triangle is definitely a cool paranormal locale to set a horror film in, but this one sounds like a sinker. The survivors of a sinking yacht in the Triangle take refuge on an abandoned cruise ship, that isn't as empty as it appears. Although the plot sounds rather cookie-cutter, hopefully a dash of the Bermuda Triangle mythos makes it into the film, instead of turning the haunting site into the film's marketing gimmick.
Read More