Checking Into "The Orphanage"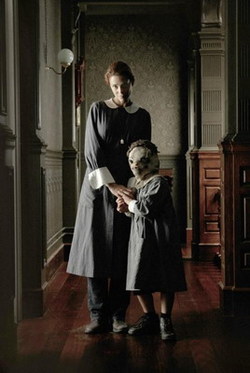 Guillermo del Toro is making a name for himself in American Horror. Although his major American works have been Hellboy and Blade II, his Spanish works, Pan's Labyrinth and The Devil's Backbone, transport us back into our childhood, when every new discovery was both fascinating and terrifying.
So when his name flashes on the screen attached to a new trailer, it's probably worth taking notice. The more we see of The Orphanage, the more expectations are raised. And Yahoo! Movies has the latest trailer.
Although del Toro only produces, his fingerprints are all over the film. The Orphanage, which tells the story of a woman who returns to her childhood home and turns it an orphanage, while her son makes an invisible friend, is director Juan Antonio Bayona's first major effort. The film opens on Dec. 28.
On a personal side note, I was impressed to see a trailer for the film when I caught a screening of No Country For Old Men last week. I saw Pan's Labyrinth opening weekend and the theater was packed. Before the film started, I wondered if the crowd knew it was subtitled. Of course, when the first words appeared, there was a collective groan, but half way through the film, the only audience noises were the gasps during the tension. Everyone had been sucked in the film and the subtitles had faded into the background. del Toro has the ability to engage the viewer and make the audience take a chance — thanks mostly to his understanding of a child's imagination, which we can all retrospectively relate to. The more "foreign" horror del Toro can get into theaters, the better. He's shown that we'll watch it, as long as it's good.
Read More