"Chav Queen" Entering The TARDIS?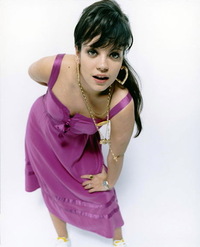 Russell T. Davies' Doctor Who seems to delight in populating the TARDIS with companions I find absolutely loathsome (Billie Piper's Rose, Catherine Tate's Donna Noble, Noel Clarke's Mickey Smith) while quickly shuttling off the ones with any potential to their unwatchable spin-off, Torchwood (Captain Jack Harkness and Martha Jones).
So this can't end well for me: rumor has it that popular British singer Lily Allen is set to join the crew of the TARDIS next season.
I totally love Lily Allen. Despite being labeled the "chav queen" by the press, she is smart, talented, charming and outspoken. Her main obnoxious point, for me, is that she's young, and therefore has a tendency to spout off, get hysterical over nothing and throw small tantrums. But we're not talking about a Paris Hilton-like level of celebrity entitlement, just the standard idiocy of the 22 year old handed a podium.
Her personal failings aside, she can be forgiven for her sublime debut album, Alright Still, and her appearance on the fantastically anarchic BBC music quiz show Never Mind The Buzzcocks at least proved to me she's got screen presence.
So will that make her a good companion to the Doctor on a spree of time-traveling adventures? Who knows? Russell T. Davies somehow managed to make me hate Billy Piper's Rose character, despite thinking she's quite charming in real life. I'll just keep my fingers crossed that, if this rumor is true, Davies lets Allen flash her third nipple during the season finale.
Lily Allen Entering The TARDIS [TEEVIEO]
Read More