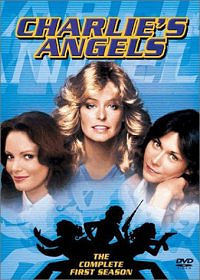 The 70's cheesecake police drama, Charlie's Angels, is not typically known in science fiction circles. (Well, at least not for scifi content – I'm fairly sure scifi geeks of that era lusted after an angel at one time or another. I mean, that poster of Farrrah Fawcett? C'mon!)
But you may be surprised to know that there are quite a number of science fiction television and movie roles that have been given to Charlie's Angels throughout the decades.
Pop Quiz: Which one of Charlie's Angels has the least number of scifi-related roles?
To find the answer, let's take a look at each actress's scifi resume, shall we?
Jaclyn Smith (Kelly Garrett)
Before she fought crime in a bikini, Smith did an episode of Probe, Isaac Asimov's television project that used real science to an alarmingly accurate degree.
Kate Jackson (Sabrina Duncan)
Jackson was featured in several episodes of Dark Shadows and also did some voice work for the animated Batman Beyond. Yes, comic book heroes do fall under the science fiction milieu, if for no other reason than it gives me chance to say "milieu ".
Farrah Fawcett (Jill Munroe)
The famous pin-up girl appeared in a few episodes of The Six Million Dollar Man with hubby Lee Majors, but she was catapulted to scifi stardom (if there is such a thing) with her roles in Saturn 3 and Logan's Run. (Roger Ebert sad of Saturn 3: "…the story is so dumb it would be laughed out of any junior high school class in the country." Ouch!) And then there was her voice work for The Brave Little Toaster Goes to Mars. Nice comeback, Farrah.
Cheryl Ladd (Kris Munroe)
Ladd starred as Louise Baltimore in Millennium, a not-so-hot remake of the awesome book of the same name written by John Varley. She also starred in the television movie Jekyll & Hyde based on the classic Robert Louis Stevenson story. (BONUS: An unrelated, serendipitous find when researching this post: Ladd also provided Melody's singing voice in the Saturday morning cartoon Josie and the Pussycats.)
Shelley Hack (Tiffany Welles)
Hack, recruited to Angel-dom when the show had already jumped the shark, also appeared in the H.G. Wells homage, Time After Time. She also appeared in an episode of SeaQuest DSV.
Tanya Roberts (Julie Rogers)
Another late-comer to Charlie's party, Tanya Roberts has no science fiction ties that I could find. Give yourself 25 points if you guessed the trivia question correctly! If not, perhaps you need to brush up against Tanya Roberts's body of work, if you know what I mean.
---
If we're going to cover all the angels (and angles), then I suppose we should include the movie remake angels as well:
Cameron Diaz (Natalie Cook)
As far as genre goes, Diaz is most noted for her fantasy role as Princess Fiona in the Shrek films. But she has had minor brushes with science fiction as well. She played the uncredited "Woman on Metro" role in Minority Report, the Tom Cruise movie based on a Philip K. Dick story. She also starred with Tom Cruise in Vanilla Sky, a movie you might not know was science fiction because it lacked the cajones to be one outright.
Drew Barrymore (Dylan Sanders)
Everyone knows that Barrymore was in E.T.: The Extra-Terrestrial. But her scifi ties do not stop there. She also had roles in Altered States, Batman Forever and Titan A.E.
Lucy Liu (Alex Munday)
Lucy Liu just barely beats Tanya Roberts scifi score with her single appearance in an episode of The X Files (in the "Hell Money" episode). Take that, Tanya!
---
Finally, for completists (you know who you are), here are the scifi credits of the male members of the TV series:
David Doyle (John Bosley)
Doyle was a popular character actor and has appeared in numerous television series including Kolchak: The Night Stalker, Starman (based on the film), Lois & Clark: The New Adventures of Superman, and the short-lived Out of This World. He also appeared in a TV movie called The Invisible Woman, which is exactly what it sounds like.
John Forsythe (Charles Townsend)
Lastly, Charlie himself. His face never appeared in the television series; we only got to hear his voice through Bosley's speakerphone. You would think that the actor has been too busy filming other stuff to make an appearance, but no. John Forsyth has not had any science fiction connections that I could find.
Read More