Chain Man Will Kill In Chain Letter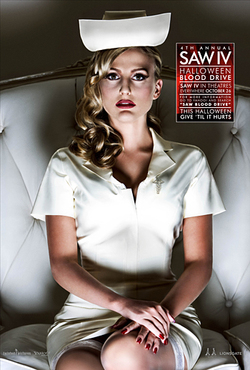 This morning, The Hollywood Reporter has a tasty, bite-sized nugget for fans of torture porn like popular Saw series. Says The Reporter, "Nikki Reed, Noah Segan, Keith David and Saw III and Saw IV lead Betsy Russell (pictured, left) will star in Chain Letter, the tale
of a maniac who targets teens when they fail to forward chain
mail."
"Saw producer Mark Burg and Roxanne Avent are executive producing
the horror feature, which introduces the chain-wielding killer
Chain Man (Michael Bailey Smith). Matthew Cohen, Cody Kasch,
Michael J. Pagan, Cherilyn Wilson, Reed and Segan play his targets.
Clifton Powell will play their high school coach, and Russell and
David will play the police officers on the killer's tail."
You know, this is a darn good idea, I have to say. Heck, at least it's not another Saw installment. Chain mail has always been ridden with the stuff of urban legend, and I've always felt a slight tinge of guilt accompanied by creepiness when I'd get one in the smail mail or via email. I can't wait to see what Chain Man looks like, too.
Read More