Candid Pix From NYC's Halloween Parade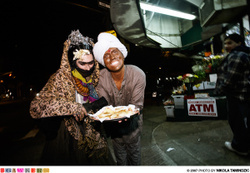 Media gossip site Gawker sent a fine photographer to the Halloween Parade in New York's Greenwich Village yesterday.
The photos by Nikola Tamindzic capture the ghouls and goblins out on the town in all their pretty and pretty scary glory. Millions come hither for this parade from as far away as Japan. Says Gawker, "Last night on the streets of New York, gallons of fake blood were
spilled; thousands of wigs donned and millions of particles of glitter
fell from slutty angels, slutty nurses, slutty penguins, slutty
blackface, slutty David Bowies, and slutty sluts." Me, I like the werewolf with a scythe the best.Halloween is over: Long Live Halloween!
Read More