Built Your Own Life-Sized Jabba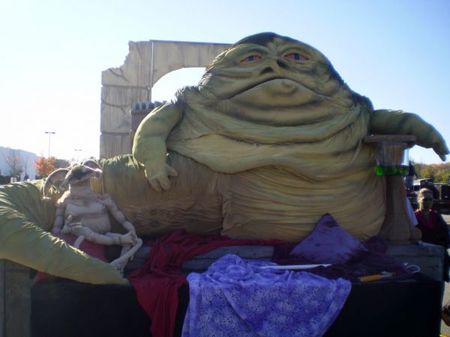 There are many reasons why you might want to build a life-sized Jabba the Hutt made out of foam rubber and latex. Perhaps you want a sci-fi themed, gastropod-shaped chaise lounge to go with your Han Solo carbonite coffee table. Maybe you have a trap-door to a basement dungeon installed in your living room and you want your dates to have the full Twilek dancer experience before they go plummeting into it. Or maybe you're just a Real Doll enthusiast with a bizarre Star Wars sub-fetish.
Whatever the reason, you don't need to contract Henson Labs to make you your very own Jabba. Everything you need to build your own can be readily purchased at your local hardware store for less than a few hundred dollars. Better yet, the Star Wars Crafts Live Journal has just posted step-by-step instructions on home-made Jabba construction, from initial shopping list to creating the skeleton out of PVC pipe to perfecting the slimy moving tongue.
Jabba the Puppet [Star Wars Crafts]
Read More