"Blood Freak" Terrorizes Thanksgiving!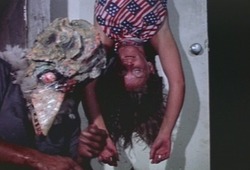 You know, Eli Roth can have his Thanksgiving and stuff it; for my money, there's no better turkey day horror movie than Blood Freak. It seems like every year around this time more and more people discover Blood Freak, and with good reason; it's a true Thanksgiving turkey of a movie, one of those "Worst Movie of All Time" candidates that actually lives up to the hype and it features a giant killer turkey.
A very low-budget 1972 effort shot in Florida, Blood Freak tells the stirring tale of a biker (co-writer and co-director Steve Hawkes) who is given some chemically-laced turkey to eat that turns him into a giant turkey that drinks the blood of drug addicts! And the best part of Blood Freak? It's a Christian-based, anti-drug movie that also happens to be amazingly bloody, not to mention stupid beyond words. Sometimes you can't make this stuff up.
Blood Freak is available on DVD from Something Weird and Image Entertainment. Put this one in your queue and enjoy it some time on Thursday after downing your turkey, stuffing, and yams; you may think it's the tryptophan playing tricks on you, but trust me, it's all Blood Freak. You'll never eat turkey the same way again!
Read More