Billy Dee Williams: Vilified For Lando's Sins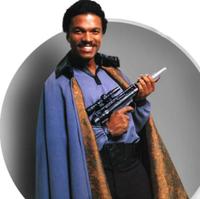 In video games, developers often take a shortcut to create a new monster or NPC. It's called a palette change, and what it basically means is that the developers take an existing character and change the color. If you've ever played Diablo 2 or World of Warcraft, you've seen a palette shift.
Of course, even before video games, there were palette shifts, the most famous being Lando Calrissian from The Empire Strikes Back and Return of the Jedi. The character was originally created as a replacement for Han Solo in case Harrison Ford didn't want to come back for the third film; if it wasn't for Billy Dee Williams' rolled-on charm, he'd just be Han Solo with a moustache and a fruity gold cape.
I've always loved Lando: he's so brilliant in Empire, yet so chronically underused in Return of the Jedi. So I was pleased to see an interview with Billy Dee Williams about his time as Lando.
It's sort of a grumpy interview, as if he has no idea what all these dorks are doing mouth-breathing all over him, but it's got a few real gem quotes… my favorite being some anecdotes about how he was vilified after Empire Strikes Back for "betraying Han" and how he had to go into his little girl's preschool to explain to the kids that Lando wasn't a bad guy, but he had to protect the people of Cloud City. Poor Billy Dee.
Interview With Billy Dee Williams [Lightsabre.co.uk]
Read More