Billie Piper Returns To Doctor Who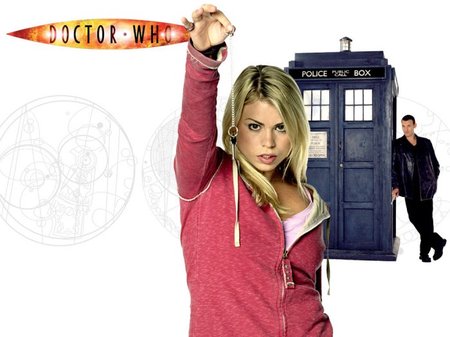 We all have different taste in the Tenth Doctor's companions.
Me? I'm a Freema Agyeman man myself. Where as Rose spent her TARDIS off-hours sitting around the council estate watching Eastenders and cramming vinegar-soaked chips into her large horse mouth by the handful, Agyeman was an intelligent, beautiful and charming intern with a medical degree. Far more the type of person that a super-intelligent extra-terrestrial would want to travel through time and space with.
Still, I'm in the decided minority on this: Rose is definitely the fan favorite. So good news for everyone besides me! The BBC has confirmed that Billie Piper will be reprising her role as Rose in the fourth season of Doctor Who.
There's a couple of things that are pretty astonishing about this news. The first is that, last time we saw Rose, she was exiled in another dimension with no way of escape. But more incredibly, Billie Piper's presence in Doctor Who next season means that season 4 will contain no less than 4 companions: Piper's Rose, Freema Agyeman's Martha Jones, Catherine Tate's stupid and obnoxious Donna, and whoever Kylie Minogue ends up playing. The number could go as high as five: Lily Allen is also rumored to become a companion next season.
Boy, the Tenth Doctor's quite a swinger. Who'd have guessed?
(Clarification: For the record, I quite like Billie Piper. In interviews, she's lovely, smart and demure. I'm just not a huge fan of her character, which enthusiastically embraces some of the worst aspects of modern British culture. Feel free to call me an outrageous classist in the comments!)
Billie Piper To Return To Doctor Who [BBC]
Read More