Battlestar Galactica: Razor Leaked To The Internet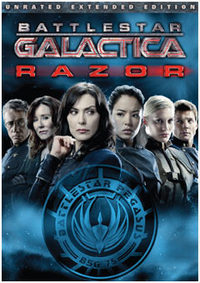 The upcoming made-for-television Battlestar Galactica movie Razor is due out on November 24th, but thanks to the nefarious Bittorrent underground, many people are already watching it online.
I haven't seen it yet, but staunch as my rectitude may be, I have to admit, my left mouse button finger has been twitching to click the link. My resolve to have a clean conscience has been sorely tested, though, by my friends, who seem to have no compunctions about downloading it and have been doing nothing but raving about it for the last twenty four hours. I won't download it, but for a BSG fan, this is a sore temptation.
According to my friends, Razor is a return to the high tension and military action of BSG's second season… as opposed to the flabby spiritualism of the third. They've even spoiled some bits for me, which I will now relate, so consider this your SPOILER warning: apparently, Razor not only features 70's-style Cylon guardians as the main baddies, but also reveals that Admiral Cain and the Pegasus' Number Six were lesbian lovers. I may be in heaven.
The SPOILERS end here. One thing that interests me about this Bittorrent leak is that it happened more than three weeks before the movie was set to air. If BSG's fourth season is delayed until the end of 2008, as is currently being rumored, Razor's leak bodes ill on SciFi's ability to prevent the same thing from happening to the fourth season, a good chunk of which has already been filmed.
It also raises the question as to whether or not we'll see leaks of the filmed episodes of shows like Lost that are currently being sat upon until the WGA strike is over. My guess is we will.
Galactica Razor Leaked On Bittorrent [Digital Alchemy, via SF Signal]
Read More