Author of the Stepford Wives Dead at 88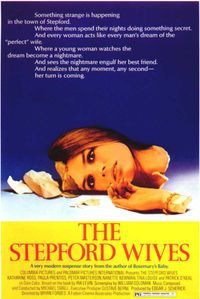 Ira Levin, author of A Kiss Before Dying, Rosemary Baby and Sliver died of a heart attack in his New York City apartment on November 12th. He was 88. And although mostly known for his non-sci-fi work, Levin is mostly famous to genre fans for giving us all the surreal masterpiece, The Stepford Wives.
On the surface, the plot of The Stepford Wives is absurd. In Stepford, Connecticut, the married men of the town are slavishly fawned upon by their docile, submissive and impossibly beautiful wives… who just happen to be gynoid duplicates of previously murdered spouses, who had the misfortune of talking back or serving their husbands coffee that was too cold.
Nevertheless, The Stepford Wives is a wry classic… the Invasion of the Body Snatchers of post-60's feminism. It was filmed in 1975 by Bryan Forbes from a screenplay by William Goldman, and became a campy feminist classic. It's largely thanks to the movie that the term "Stepford Wife" has entered popular culture, most recently used to refer to Katie Holmes' bizarre marriage to Tom Cruise.
In honor of Ira Levin's legacy, you could do worse this weekend than rent The Stepford Wives and revisit it. Just stay far clear of Frank Oz's execrable 2004 remake, which is redeemed only slightly by the delicious irony of starring Tom Cruise's ex-wife, Nicole Kidman, in a leading gynoid role.
Author Ira Levin Dies [SF Scope]
Read More