Astro Boy Is No "Dark Pinocchio"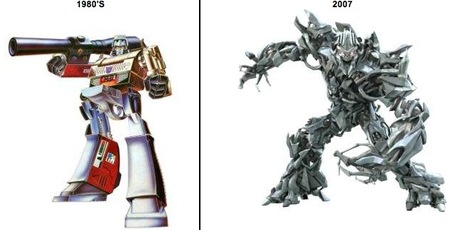 Osamu Tezuka's Astro Boy is set to rocket to the screens in 2009, thanks to CGI house Imagi Animation, and over at First Showing, they've got a first look at the concept art for Astro's new design, as well as a brief interview with the film's director, Colin Brady.
For a card carrying member of the Astro Boy fan club, there's something disconcerting about seeing Astro with what appears to be some sort of gatling gun attached to his arm, not to mention the bizarre, blood lust grimace on his too-old face.
Unfortunately, the interview with Brady isn't exactly reassuring.
Here's how he describes Astro Boy:
Astro Boy is kind of a dark Pinocchio story, but unlike Pinocchio, Astro never can become real flesh and blood. Astro's journey of self discovery and acceptance is directly linked to the hardcore killer robot fights, and to the rejection by his creator, Dr. Tanner.
This guy is clueless. While it's true that Astro Boy is a Pinocchio story, it's not "dark" anything: Tezuka's message is ultimately that humanity are traits like love, loyalty, empathy for others and kindness, not mere flesh and blood. Astro Boy is not some miserable outcast orphan: he is surrounded by humans and robots who love him, because he has a good "heart."
The charm of Astro Boy isn't just in the giant robot battles, it lies in Tezuka's earnest belief in both the inherent imperfections and the inherent goodness of mankind, as reflected in man's creations. Which is why, in the comics, Astro is proud to be a robot, not haunted by it.
Brady then claims they are pushing for a "hard PG" as if that's a good thing. The wonderful thing about Astro Boy is that it doesn't need to be dark to be exciting or emotionally poignant. He can work in a G, because he makes adults see the world with the same wise innocence and empathy that children exhibit at their best. That's the whole point.
Exclusive Astro Boy Concept Art and Director Interview [First Showing]
Read More