Are You Scared? Cloned Monkeys Are Arriving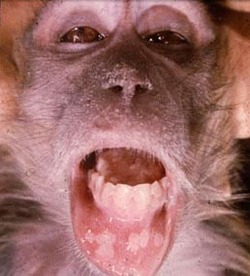 I just returned from the Stephen King/The Mist press conference where King admitted that pretty much everything scares him, from cars to people to an SUV backing up. (Frankly, the journalists who asked less-than-compelling questions of King scared me. These are the country's best reporters? Feh.)
Really, though, most everything scares me, too. Of particular fear to me today is the news that, in Oregon, they are very close to cloning monkeys, according to The Independent, one of the U.K's most trustworthy newspapers. Say the publication, "A technical breakthrough has enabled scientists to create for the
first time dozens of cloned embryos from adult monkeys, raising the
prospect of the same procedure being used to make cloned human embryos.
"Attempts to clone human embryos for research have been dogged by technical problems and controversies over fraudulent research and questionable ethics.
But the new technique promises to revolutionise the efficiency by which scientists can turn human eggs into cloned embryos.
"It is the first time that scientists have been able to create viable
cloned embryos from an adult primate – in this case a 10-year-old
male rhesus macaque monkey – and they are scheduled to report their
findings later this month." Dr. Frankenstein is getting closer,
folks. And as frightened as I am, I'm excited, too. Do you think we'll
see a cloned human in our lifetimes? Does that scare you? Why?
Read More