Apocalyptic Manhattan Cityscape for Warhammer 40k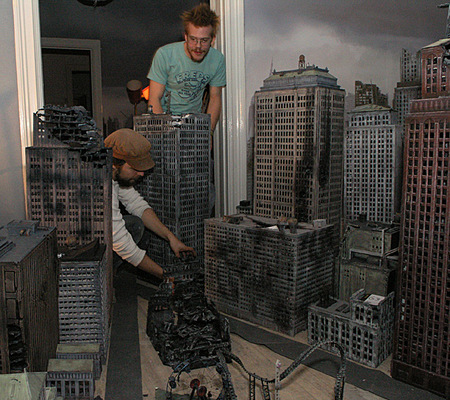 I have always been fascinated by the universe behind the Games' Workshop's Warhammer 40,000 series of strategy games: a gothic science-fantasy universe taking place 40 millennia from now, chronicling a war between anachronistic, zealot space marines and bizarre alien races.
Unfortunately, while the game universe is compelling, starting out is expensive. A number of metal figurines are pretty much required to play. You've probably seen these if you've ever gone into a board game shop, intricately painted, incredible works of art in their own right. I've seen space marines with eyebrows painted on their carbon-smudged faces with what must have been a brush consisting of a single hair. It's an intimidating scene, hard to enter and requiring a great deal of money and fanaticism.
And here's Exhibit A. A bunch of Warhammer 40k gamers created this incredible scale model of an apocalyptic, skyscraper-filled cityscape for their campaign, all to march their die-cast little men through and play imaginary space marine. It's an incredible artistic work, but there's something about it that is almost alienating in its fanaticism. How are you supposed to possibly enter a hobby where the bar to entry is creating your own apocalyptic Manhattan?
Apocalyptic Manhattan for Warhammer 40k [Official Thread]
Read More