Ambrose Heads to the Land of the "Wild Things"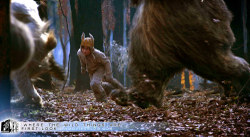 As a kid, Where the Wild Things Are was one of my favorite stories to hear before bed. I wanted to be Max, the wolf-costumed boy who is sent to his room with out supper and instead, travels to the land of the Wild Things — a mythical world inhabited by gigantic monsters. Of course, Max becomes their king before returning to his room where his supper is waiting. Now, we'll all get to journey to the land of Wild Things, as director Spike Jonze (Being John Malkovich, Adaptation) has just added Lauren Ambrose to the voicing cast of the movie adaptation, which is set for release in the fall of 2008, reports The Hollywood Reporter.
Apparently, Ambrose will voice KW, one of the giant monsters. The film is reportedly using live-action, computer animation and puppeteering to bring the land of the Wild Things to life. Outside of the horror genre, Jonze is one of the most innovative directors in town. Though Where the Wild Things Are might only reflect our childhood fears, Jonze is the director to bring that vision to the screen — just check out the still on the left from the MTV Movie Blog. I'll gladly climb aboard Max's ship, as long as Jonze is the captain.
Read More