A Visual History of the Enterprise's Design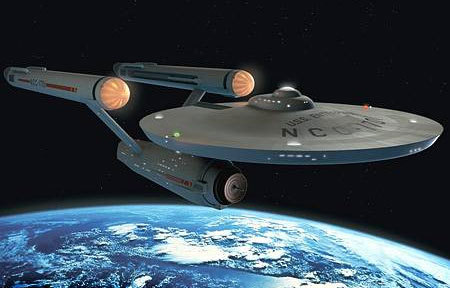 The older I get, the more timeless the original design of the USS Enterprise seems to me. I grew up with the bulbous, lite-brite Enterprise D, and saw that design evolve over time to reflect the more modern aesthetic view of futuristic space technology: the carbon-dark, industrial school of space ship design.
But there's something pure about the NCC-1701's clean lines that I appreciate more with every passing year. It is an elegant machine in color and form, as utopian in design as Gene Roddenberry's Federation was meant to be in philosophy.
If you look at the Enterprise as a reflection of the creators' own growing cynicism towards Roddenberry's future utopia, there's clearly a deeper meaning in the NCC-1701's evolution: from the elegant, ivory Enterprise of Star Trek: The Original Series to huge, dark warship the Enterprise eventually becomes by the time of Star Trek: Nemesis. The ship becomes bigger, darker and uglier the longer the franchise goes on. How sad.
Over at Screen Rant, they have posted a fantastic look at the design of the various Enterprises over the last few years. They mention that people who have seen the redesign of the Enterprise in Trek XI seem to be shocked and outraged by the liberties being taken with the classic design. What a pity. I was hoping Trek XI would inject some of Roddenberry's wistful utopianism into the franchise, and the Enterprise itself is the symbol of the Federation.
How Radical Is The USS Enterprise Redesign? [Screen Rant] (via SF Signal)
Read More