A Smorgasbord of Sci-Fi Cheesecake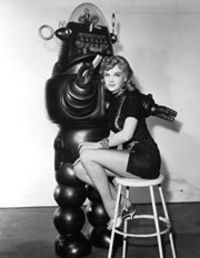 There will always be monsters in science-fiction. There are really too many to list, but some random sci-fi boogeymen will do: Antennaed Plutonians. Lumbering lobster men. Mutant ants as large as skyscrapers. Giant robots with death rays eyes. Ethereal floating brains capable of killing with but a thought. Chest-bursting xenomorphs. And so on.
Clearly, the zoological garden of the sci-fi genre is stuffed with species incredible to behold. But just as every sci-fi movie must have some sort rampaging monster, so too must that monster have a voluptuous beauty to chase, to terrorize, to kidnap until said bomb shell's clothing are reduced to highly suggestive tatters. And personally? I'm just as interested in the sci-fi zoo crammed with those beautiful creatures as I am the monsterorium.
Apparently reading my thoughts, Flixter has been kind enough to post an encyclopedia of Science Fiction Film Babes from the 1950's to the 21st century's double oughts. There's enough sci-fi cheesecake here to make the average Trekker living in his parent's basement lose his mind.
Science Fiction Film Babes Through Time [Flixster] (via SF Signal)
Read More