Zombie Walks Multiply Like…Zombies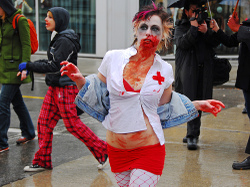 Zombie walks have become pretty popular in your large to mid-sized metropolitan cities. Atlanta has a great one, and Toronto (pictured) has a saucy one.
The idea is that anyone who wants to can get all zombie'd up and do a medieval-style dance of death through the city streets and down the avenues and into the parks. Put on your old clothes and your hand-me-down latex and turn your town to Shambleton.
The New York zombie walk, however, is an exclusive deal where you have to apply and be approved to attend. The site where they filter you is here – Zombie Application Process. There's even a secret starting location.
Now, it's true that the NYZW is intended to be a pub crawl and a guerrilla event like those impromptu Jedi battles those sci-fi folks do, but still, zombie walks should be open to everyone, don't you think. I mean, anyone…can die.
Read More