Zombie Shakespeare and Other High Art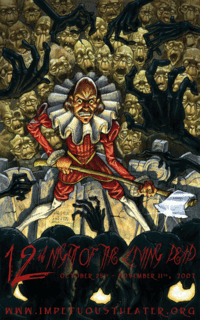 I love a good gimmick — and 12th Night of The Living Dead's got a great one!
Playwright Brian Smallwood brings together the best of George Romero and William Shakespeare in this thrilling stage show which asks the question "Can a zombie be made to understand the affairs of the heart without eating it?"
New York's Impetuous Theater Group presents a bloody, violent, hilarious show. 12th Night of the Living Dead is running from October 25 to November 10th, just above the Haunted House at the CSV Cultural Center. Get details and buy tickets through the website.
You can hear a scene from Smallwood's zombie Romeo & Juliet (cleverly re-titled Romero & Juliet) on Trav S.D.'s excellent podcast.
Read More