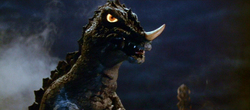 Among the many double feature DVD titles released by MGM's Midnight Movies catalog last month was Yongary, Monster From The Deep, South Korea's answer to the Godzilla craze of the 60s. Made in 1967 by director Kim Ki-duk (not to be confused with the similarly named arthouse fave who made The Isle), Yongary is widely remembered by monster movie fans as a TV staple of the 60s and 70s, thanks to airings on countless Creature Feature programs. While it isn't quite up to the quality of a Godzilla film (what is?), Yongary is unique not only as South Korea's first giant monster movie (paving the way for The Host and Dragon Wars) but also one of the few monster movies with a dance sequence. With the monster. No joke.
So MGM's new DVD boasts a restored widescreen picture that's sure to please fans, but what it doesn't contain is the original Korean language track, only the English dub; while many fans might decide to skip out on purchasing Yongary due to this, don't hold your breath waiting for the original track to wind up on DVD anywhere (or anytime) soon.
According to an interview with Sci-Fi Japan, former MGM restoration expert James Owlsey discusses the exhausting four-year (!) effort to get a presentable DVD for Yongary on the market, from a search for the original negative to the loss of the original soundtrack. "We tried as much as we could to find the Korean Yongari. And again, sometimes there are problems because of the language barrier, but we were told that it was terminated. That how they said it… terminated, y'know?", Owlsey states, also noting that if it wasn't for the English-language IP (Inter Positive) from U.S. distributor AIP, a widescreen version of Yongary might have never happened at all. Those interested in hearing about the hard work and long hours that go into putting classic monsters on DVD should check this fascinating article out (right here, in fact).
Read More