Xena's Cupid Becomes Star Trek XI's Bones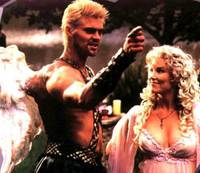 I'd like to thank the Star Trek XI gossip mill for keeping me in posting material for the last few months. Certainly, the constant updates, rumors and permutations of prospective casting news that have rippled through my newsreader since mid-July have allowed me to finally pay for some of that elective and utterly gratuitous plastic surgery I had my eye on.
But all good things must come to an end. It seems the last cast member has been confirmed for J.J. Abrams' Star Trek prequel, at least according to IESB: Karl Urban of Lord of the Rings, The Bourne Supremacy and — of course — Xena as Cupid will be Bones himself, Dr. McCoy.
That rounds out the full cast list:
• Chris Pine as Captain James T. Kirk
• Anthony Qunto as Spock
• Karl Urban as Bones
• Simon Pegg as Scotty
• John Cho as Hikaru Sulu
• Anthony Yelchin as Pavel Chekov
• Zoë Saldaña as Uhura.
I have a few issues with that list: Simon Pegg is a terrible choice for Scotty, and John Cho doesn't have a lick of George Takei's sensual gravitas. But there's no doubt Urban makes the cast list look better: he's probably the best actor on the list, with just the right amount of age and serious gruff to pull off a young McCoy.
Karl Urban Confirmed as Dr. Leonard "Bones" McCoy [IESB]
Read More