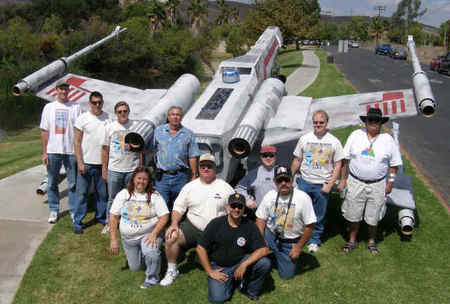 The Ansari X Prize for private suborbital space flight has already been awarded, but the equally coveted X-Wing Prize is still very much up for grabs.
The amateur rocketeers of the Polecat Aerospace Club have that prize in their sights. Next week, Andy Woerner and his friends will attempt to launch a 21-foot long, life-sized X-Wing model that they have constructed themselves, complete with carbonization scarring and built-in R2 unit. Looks like they have the Right Stuff.
The X-Wing is laser cut out of pieces of Baltic Birch Wood, with a smattering of solid aluminum. The wings will actually split into the X configuration when launched, triggered by remote control. That actually presents some design challenges: since the model is made largely of wood, the team anticipates structurable damage to the wings, but they still anticipate it will be recoverable. Needless to say, the X-Wing won't land: it'll parachute to earth like any model rocket.
Quizzed on why these Star Wars fans decided to build an X-Wing rocket over a Y-Wing or A-Wing, Andy replied: "It was the one design from Star Wars that made the most sense to try to scale for rocket power. And on top of that, it just looks cool."
When geeks dare to dream. The X-Wing launches on October 10th.
Rocket-Powered 21-Foot-Long X-Wing Model Actually Flies (Updated: Built-in R2-D2) [Gizmodo, via SF Signal]
Read More