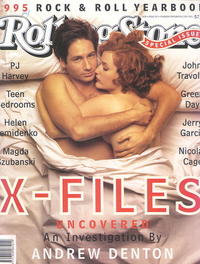 It's hard to believe that the first X-Files movie came out almost a decade ago. As a teenager, the show was something of a revelation to me, and I watched it just as much for the smoldering sexual tension between Mulder and Scully as I did for the dimly illuminated machinations of oily Grays. I remember waiting for the movie anxiously, for one main reason: I hoped against hope that this was the movie where Mulder finally got some.
Well, ten years later and Mulder still hasn't gotten any from Scully, or at least none that I know of, and so I find myself just as eagerly awaiting X-Files 2, which David Duchovny has been spouting off about pretty consistently as a likely future project. Let's leave aside the fact that Gillian Anderson is a decade past her prime and Duchovny is something of a careerless Hollywood kook. I want lurid fulfillment after 14 years of unbridled sexual tension. And really, now that we know Chris Carter was full of it and there was no overarcing conspiracy tying all The X-Files together, that's pretty much the only reason to look forward to the movie.
According to Comingsoon.net, X-Files 2 is confirmed, and being fast-tracked for production, with filming commencing on December 10th for a 2008 release. I guess the question is: will we finally see Mulder and Scully passionately embracing? Or is this going to be a flashback to the first film, when their kiss is interrupted by Scully being stun by an extraterrestrial honey bee.
Exclusive: The X-Files 2 Starts Shooting Dec. 10 [Coming Soon]
Read More