Wow: New York City Horrorfest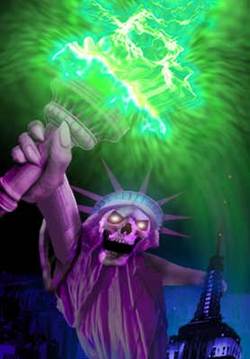 Forget that Uwe Boll's Seed is having its world premiere at the New York City Horror Film Festival next week. You couldn't pay me enough to see another Boll film (well, I would go for a thousand dollars, but not less). Aside from Boll, the fest looks like it'll rock.
If you're in or around New York City and its environs from October 24 – October 28, you'll be privy to films like Stink Meat, Pig Tail, Sheep Skin and Egg Ghost. There are non-gross-food-related movies, too, including world premieres of Death of a Ghost Hunter, directed by Sean Tretta and Blood Rails, directed by Frank Zagarino. It almost makes me wish I weren't going to New Orleans for Voodoofest and some pre-Halloween frights (almost). The $200 All Access Pass gets you into parties, movies, the filmmakers panel, and a ticket to the lifetime achievement award being given to Two Thousand Maniacs director Herschell Gordon Lewis. Sounds like a terrific and goosebump-raising time will be had by all.
UPDATE: Mr. Ravenface has a video interview!
Graphic Courtesy NYCHFF
Read More