Will Neil Gaiman Direct An Adaptation of His DEATH?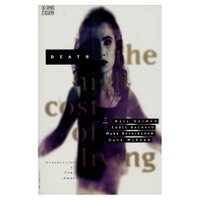 Will fantasy novelist Neil Gaiman join the ranks of film directors? He will if Guillermo del Toro has anything to say about it. Del Toro is producing a film adaptation of Gaiman's comic series Death: The High Cost of Living, told Sci Fi Wire that he would love to see the writer direct his own story.
A spinoff of Gainman's Sandman, High Cost of Living finds Death taking human form in the person of a young goth chick to walk the earth and study humanity.
Del Toro, who is currently directing Hellboy II, has discussed filmmaking with the author and feels that he is "a guy that thinks in terms of ideas and very concrete images."
Read More