Who's the New Doctor Who?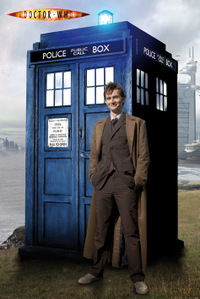 Rumor has it that a new Doctor Who movie starring David Tennant may be in the works. If so, it would join a long list of cinematic Who's Who. Peter Cushing starred as a decidedly human Doctor in a Hammer-produced series of two Doctor Who films in the sixties, and Paul McGann became the eighth Doctor for the Doctor Who television movie of the late 90's. But there has never been a Doctor Who film starring the current Doctor of the BBC television series.
Their source is the BBC controller of fiction and head of BBC films, Jane Tranter. According to Tranter, the BBC is interested in cross-fertilizing film production with the help of the television departments. When asked if this meant that a Doctor Who movie might be a reality, Tranter cryptically responded: "I would not rule out a film version of Doctor Who, no."
This comment has caused a furor of fan speculation that a Doctor Who movie might fill the long gap between the end of the fourth season in 2008 and the start of the fifth season in 2010… a "gap year" built to accommodate the schedule of Who star David Tennant's run as Hamlet for the Royal Shakepeare Company. That gap year will already be filled with three specials starring Tennat and strongly rumored to co-star Billie Piper as Rose. Given Rose's definitive departure from the series, I can't help but wonder if these schedules will be flash-backs.
My guess is that the BBC doesn't have actual plans, and that a gap year "movie" is wishful thinking: if Tennant doesn't have time to do a show during 2009, he's not going to have time to make a feature film. What do you think? Let us know in the comments.
BBC considers Doctor Who movie [Guardian]
Read More