Where's The Green Slime DVD?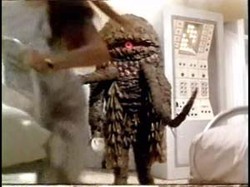 It is clear that the movie studios need to be goosed into getting some of their treasures onto DVD. I understand that they can't just flood the market with everything at once, and that it costs more to promote a lot of movies than they're ever likely to make back. Still, there are huge numbers of fans just dying for certain movies to be released.
Why, I'll bet there are dozens of us clamoring for The Green Slime!
Granted, I'm basing my desire to own this on my memories of seeing it as a kid, when my critical facilities were, shall we say, less developed than they are now. But even at that age I thought the "slime," actually one-eyed bipeds that appear to be Munchkins in rubber suits that were poorly designed even by Japanese movie standards, were pretty frickin' funny.
Maybe I was missing some deeper subtext. The director was none other than Kinji Fukasaku, best known in the US for Battle Royale. To call Fukasaku eclectic would be an understatement: he made other sci-fi films that are hard to judge because they were re-edited for US release, like Virus and Message from Space; but he also made a lot of classic Yakuza films, as well as the camp classic Black Lizard, co-starring novelist Yukio Mishima.
If nothing else, you need to see The Green Slime for its psychedelic theme song. Check it out.
Read More