Watch Classic B-Movie Trailers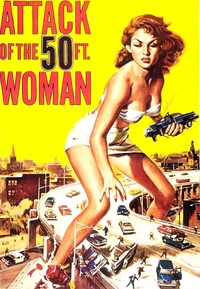 Trailers From Hell is a site that no film fan should overlook. Where else can you hear Joe (Matinee) Dante tell you the behind-the-scene secrets of Attack of the 50-Foot Woman?
Old school director John Landis delights in talking about Colossus: The Forbin Project, while new cult-hero Edgar Wright guides you through the plot holes in movies like Dr. Terror's House of Horrors (Wright tells us bluntly, "There is no house of horror in the film.")
Trailers have always been a perfect treat for internet viewing, because they're between 2 and 4 minutes, they're loaded with the promise of thrills, danger and action like you've never seen. And, as any genre fan knows, often the trailer is better than the actual movie.
Here you can feast upon classic B-movie titles like Monster From Mars, Carnival of Souls and 20 Million Miles to Earth — and the site shows them with their original audio, or with commentary by the likes of Sam Hamm (Batman, Monkeybone) , Larry Cohen (The Stuff, Q: The Winged Serpent) and Alan Arkush (Rock N' Roll High School, Heartbeeps) [I'm so glad I finally got to work Heartbeeps into a blog entry.]
My only question is: why wasn't Joe Bob Briggs invited to the party?
Visit Trailers From Hell HERE.
Read More