"War of the Worlds" Comes to London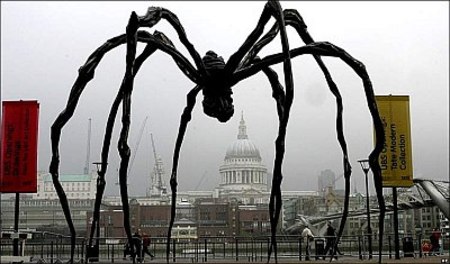 It's got a few too many legs to be a Tripod, but this giant sculpture outside of London's Tate Modern is about as reminiscent of War of the Worlds' Martian war machines as it gets.
Maman 1999 — a 30 foot tall sculpture crafted out of bronze, steel and marble by French artist Louise Boregoise — evokes all sorts of squishy, wonderfully jelly-like feelings. It looks like it has just crawled out of a Ray Harryhausen picture from the 1950's to liquefy the screaming citizenry fleeing before it as a lantern-jawed General surveys the devastation grimly through his binoculars. (Meanwhile, a scientist tries to explain the metal beast's one true weakness.)
For the sci-fi fan, Bourgeois' piece really does conjure up a loat of similar (but not idential) sci-fi parallels. The Tripods from War of the Worlds. The giant ants from Them or the giant spider from King Kong. The walking eye at the beginning of Jonny Quest. The Striders from Half-Life 2.
Maman 1999 will be on display outside of the Tate Modern until the 20th of January, which means it's free to go see for any London sci-fi fans. If you go see it, send us photos of you fleeing before its terrible might!
Louise Bourgeois Gallery [Tate Modern, via Forbidden Planet]
Read More