Wally Wood's "There Will Come Soft Rains"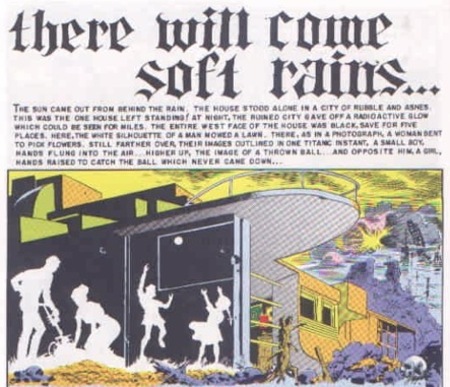 In response to our posting the other day of Uzbekfilm's animated Soviet production of Ray Bradbury's There Will Come Soft Rains, reader John Muth reminded me that there was another adaptation of the story done by genius comic artist Wally Wood for the classic early 50's sci-fi comic, Weird Fantasy. Luckily, the entire story is available to read online.
Many of Ray Bradbury's best short stories were adapted for EC in the early 50's. The arrangement wasn't always legal: at first, EC editors Bill Gaines and Al Feldstein pretty much just plagiarized stories that Bradbury had written. Bradbury sent them a polite letter, telling them how much he enjoyed their comics and, hey, come to think of it, some of their stories sort of reminded him of things he'd written. Suitably embarrassed, Gaines and Feldstein arranged to start officially paying Bradbury licensing fees, and official adaptations of his stories in appeared in Weird Science, Weird Fantasy, Tales From The Crypt and The Haunt of Fear until the Comics Code finally killed EC.
Wally Wood's adaptation here of "There Will Come Soft Rains" is an interesting juxtaposition to the USSR version. From the first panel, it's clear by the negative shadows burned into the ruined wall of the house that the inhabitants have been killed in a nuclear war. The appearance of the feral dog is much more horrifying than in the Uzbekfilm version, but somehow, the comic lacks the power of the Soviet version in the tackling of the story's theme: that humans are just extraneous gears of meat in the flawlessly functioning machines of the future… machines that will never even notice when we're gone.
Wally Wood's "There Will Come Soft Rains" [Full Comic]
Read More