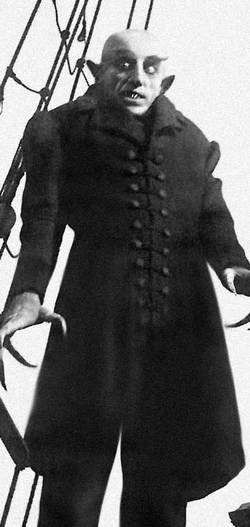 Unless you've been hiding in a boarded-up, abandoned house, you can't miss the marketing for the upcoming vampire flick 30 Days of Night. Even Monsterfest has been captivated by the dangerously charming Dracula decedents. The vampire buzz is so loud that it could mark the dawn of a new trend in horror, if 30 Days of Night is as good as the Web and TV ads would have us believe.
It's the same kind of hype that surrounded 2002's 28 Days Later, which reanimated the zombie genre five years ago. Frankly, the last decent vampire movie was 2000's Shadow of the Vampire, and no one noticed its release, even with stars John Malkovich and Willem Dafoe. It's about time the genre returned to explore vampire's strong cinematic legacy. Nosferatu, Universal's classic Dracula and even the campy Lost Boys .
To prepare you for the onslaught of vampire mayhem, Bloody-Disgusting.com posted an excellent video retrospective on the vampire in light of the new film. For more blood sucking, you can also catch Blood of Dracula, Dracula 2000 and Blood of the Vampire next week on Monsterfest. As an added bonus, you can watch Nosferatu in the embedded video player if you make the leap.
Read More