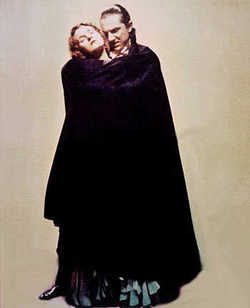 "So I finally made it to V," I told a friend who knows I write this blog the other day.
"That's a good letter," she said. "I guess you'll be doing 'Victim.'"
Victim! Who'd have thought? Certainly not me. From pretty early on in this casual journey through the horror alphabet, I could see "Vampire" coming from a long way off.
Not that the vampire is my personal favorite among monsters (as mentioned last week, that would be Bill Hinzman's zombie in Night of the Living Dead). And as your responses to last week's question about your own favorite dead-alive monsters show, the vampire has a lot of other competition as well. Some monsters are nastier (Pinhead, for example, who was cited as Favorite Monster by one reader), and some are more sympathetic (Frankenstein, as cited by a couple of others).
Still, the vampire is the king of the dead-alives. Why? Because he alone is so completely and thoroughly unapologetic about his condition. For Dracula – and vampires in general – being dead-alive isn't just good, it's GREAT: great in the way that only the most intense, and most intensely forbidden, things can be. Which is why in the loftier zones of writing on horror movies, vampirism is always connected with those two most popular better-than-they-should-be real-life compulsions: sex and drugs.
By the end of most vampire movies, of course – and often from the very beginning of them – it's firmly established that while the vampires in question just love their dead-alive condition, they really shouldn't. Why? Well, because it's evil.
If being a vampire were JUST evil and nothing else, it really wouldn't be all that attractive a conditon. But it isn't. It's also… UNCANNY.
One definition of the word "uncanny" states that it relates to things that are alive… but shouldn't be. We love the uncanny because we love it when life — and death — turn out to be totally different than what we thought they were. Deep down, we want to be surprised, shocked – shown that our small and dull notions of what the world is were wrong – totally wrong. And uncanny events – and beings – accomplish this with supreme efficiency. They jolt us into the realization that reality is more – much, much more – than we ever imagined, and perhaps even wanted.
Of course, uncanny phenomena accomplish this in a negative manner – by scaring us. But… being scared feels good – at least to a certain part of us.
And the vampire, preeminently among all monsters, knows this fact. As Blake remarked in the comments to Friday's blog, the vamire is COMFORTABLE with his status. He knows that what he does isn't just good for him — it's good for us too. And that's what gives the vampire (even if it might not personally be my favorite monster) my vote for the most important specimen of the most important kind of monster (the dead-alives) that there is.
Read More