Universal Kills Rose McGowan's Barbarella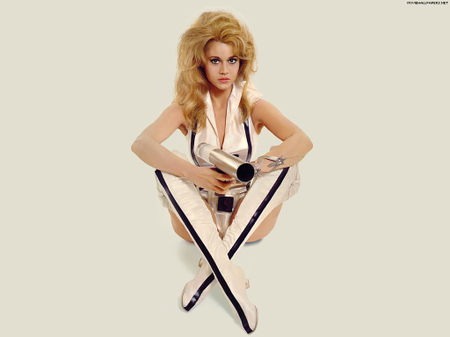 Those of us who have been anxiously awaiting an opportunity to see Rose McGowan locked into an Orgasmatron will have to wait: The New York Observer is reporting that Robert Rodriguez's proposed remake of Barbarella has been canned by Universal.
The current sci-fi scuttlebutt is that the issue of contention betwen Rodriguez (Sin City, Desperado, Planet Terror) and Universal was in Rodriguez's desire to cast McGowan, his fiancee, in the titular role as the lusty astronaut who whores her way across half the galaxy.
Rodriguez is denying that McGowan's casting was the reason the project fell through, but instead is because the budget was too large. That rings hollow. The original Barbarella was paid for entirely in cigarettes and espressos liberally doled out to a cheap Italian film crew, and Rodriguez and McGowan aren't known for being expensive talent.
McGowan isn't to everyone's taste, but she seems like a good choice for Barbarella. You need someone who can pull off both cheese and cheesecake in equal measure, someone both bubbly and trampy. McGowan fits that bill. The only criticism I can really think to level against her casting is that she's no Jane Fonda. But then again, who is? Almost any actress would be a disappointing successor to the Barbarella from Hanoi.
Universal Drops Barbarella [SciFi Wire]
Read More